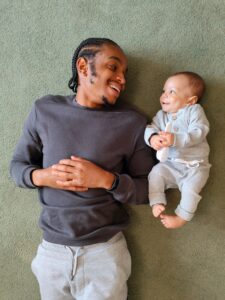 At CPRC, we get to meet new dads from time to time. When we do, it's amazing to watch the impact they have on their partner as she talks through what she believes about the life of her child.
During an ultrasound for a married couple who already had their hands full with a few kids, the husband said to his wife, "we can be afraid, or we can be excited. Let's be excited." His gentle support comforted her and helped her feel less overwhelmed. We're so grateful when fathers speak up to encourage their partners and protect their babies. We've seen it make all the difference
It's easy to focus on "her" and "her decision", but we need to not forget dad's role in this critical situation. After all, they're both parents at the moment of conception, and he is an equal part of the dynamic of pregnancy.
The loud voices of society say that dads don't have a choice, it's all about the mother. And, if dads do speak up, they're oppressors.
So, how do we reclaim fatherhood in our community? How do we live out the truth of God's design for fatherhood? How do we invite, encourage, and prepare men to protect their children and unborn children?
Encourage Him
Talk to a young man about the privilege of fatherhood and call out the brave father inside of him. Start the conversation early with your kids.
Model Fatherhood
Be a role model for a young man, a father to be, or a struggling dad. Being involved in important decisions, conversations, and events in the lives of your children will inspire them to be loving parents someday.
Pray for Him
Pray for young men in our community to have a desire for fatherhood. Pray for our community to inspire and help reclaim the fatherhood lost through abortion and abandonment.
by Dayna Holmes, Executive Director